Take a photo with the free app Instagram on your smartphone, and you can instantly use the photo on your Joomla site without uploading. The plugin saves plenty of time and makes it really easy to share your images. InstaImages even works on iPads and Android tablets, which makes it possible to fully update Joomla with your mobile device. This is a huge plus in my opinion, as there is no easy way of uploading images directly to a server on the iPad.
Use with any type of content
InstaImages is a combination of a component and an editor button. You use the component to set up the connection with the Instagram API. The editor button is used to insert an image code in your text editor of choice when editing any type of content. You can use the extension to enter images into content in Joomla, K2 and many more.
When you enter any article, you'll notice the Instagram button below the article editor. Use this button to insert InstaImages in your article.
A modal window will appear where you can select the image to use. A great thing is that InstaImages will also get the image caption from Instagram automatically, so you don't need to enter this. Just click insert to use that image in your article.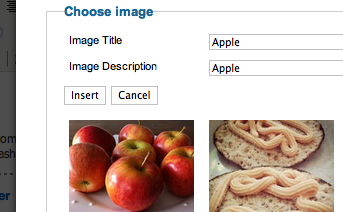 InstaImages was developed by Daniel Eliasson, a Swedish programmer and webdesigner with over 15 years of experience in different programming languages. InstaImages costs $10.
I think this extensions is a simple, clever idea, and definitely something that I will test out on some of my sites. Microblogging with Joomla just got easier :)