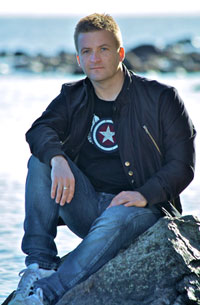 Welcome to JoomlaBlogger, a blog about the content management system Joomla! and all things related to running a successful website based on this CMS.
My name is Kristoffer Sandven and I work as a professional Search Engine Optimizer (SEO) and a Joomla consultant. I help clients get as much traffic as possible to their pages, and to convert those visitors to revenue.
In my day-to-day job with Joomla, I continuously discover things that can be shared with you, fellow Joomla addict, for our common benefit: Making Joomla a better and even more widespread platform. The goal of this blog is to inspire you, to help you implement Joomla for your use and eventually assist you in making money by doing so. I hope you will find useful content here, and please don't hesitate to contact me with ideas for topics.
Photo: Marius Waldal from Framed Reality
My Life Outside the Joomla World
Other than working on web related projects, I enjoy spending time with my girlfriend, kids and friends, travelling and reading. I'm a father of two great kids, a student and teacher of the japanese martial arts Aikido and Tenshinshoden Katori Shinto Ryu (fencing - 'kenjutsu') and an active Freemason (me being the webmaster for the organization, the site for the Norwegian Order of Freemasons is made in Joomla, of course). My girlfriend keeps my feet on the ground, the kids teach me to be patient, the japanese martial arts keeps me humble and dedicated, and freemasonry keeps a check on my integrity and conciousness - and open to the larger questions in life.
Blogging
Blogging is becoming a larger part of my life, and I enjoy writing more and more, even though English is not my mother tounge. I hope the language is understandable anyway and that you enjoy reading my thoughts. I'm working on another blog as well, in which I'll be exploring other sides of life. Stay tuned for more info on that.
I wish you luck on your Joomla projects and hope to interact with you here on my blog in the future.
Open Source Matters!
Subscribe to JoomlaBlogger
To keep track of what's going on here at JoomlaBlogger, you have several options: