Displaying items by tag: Yubikey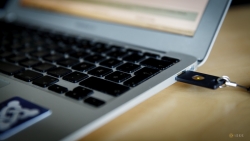 Online security, and in particular how to create strong passwords, has been discussed a lot lately. Many users create weak passwords in their systems, which is one factor in letting hackers in. As an added security measure, online service providers offer two-factor authentication.
What this means is that you have a username, a password and a one-time password that is generated by a gadget you control. This can be a dedicated gadget (like the ones many banks issue) or it can be an app on your smartphone (like Google Authenticator). These solutions normally give you a 6-digit one-time code that you can enter into the system.
There are also USB solutions that let you put the device into the computer, click a button and the device will enter a strong one-time password into the appropriate field on the computer. One of the larger providers of these USB devices are Yubico, with their USB stick Yubikey.
The Yubikey can be used with popular services like LastPass, to add an extra security layer onto your login. Now, we can have the same solution in Joomla.