Experienced blogger
Learn from experience gained through building a successful Joomla blog since 2009.
Reference guide
Use the e-book as a reference guide when working on your own blog or web site with Joomla.
Recommendations

Get clear advice on what extensions to use. Testing if an extension is right for you takes time - I've done it for you.
Tips and tricks

Detailed explanations on how to configure a K2-based blog, power-user tips and much more.
Save time building a Joomla blog
In the book, you will draw directly on my experience from building a blog and other web sites with Joomla. The insights you gain will make the task of creating your own blog easier, saving time when doing so. After all, I've spent a lot of time learning this stuff the last few years. Why should you spend as much?
The e-book contains infomation like:
How do I set up Joomla for blogging?
The essential elements of a blog
Essential extensions for improved workflow
Popular extensions
In-depth look at K2
Blogging workflow
Comment systems
Social functions
Optimizing for speed
Working with video
Mobile version of your blog
Remote blogging
Tracking traffic
Advertising
Writing tips
Search Engine Optimization
and much more!
The book will help you pick the right solutions
In this thorough e-book, you'll take an in-depth look at building a Joomla web site with a number of different software solutions:
Joomla with a selection of installed extensions
Joomla with the K2 Content Construction Kit
Joomla with the EasyBlog blogging component
Other extensions and tools you'll need
Online services to complement Joomla
This is just a small taste of what's included in this
comprehensive guide on blogging with Joomla.
buy
Want a printed version?
Real-life experience
The content in this e-book is based on real life use of Joomla! for blogging since 2009. It can be used by anyone who wants to learn how to:
Understand and configure commonly used Joomla extensions like K2 and EasyBlog
Optimize the blog for search engine visibility
Create and organize content
Track and analyze the web site traffic
Integrate advertising, social functions and video
Optimizing a web site for speed
and much more
What people are saying
Kristoffer has developed a very thorough guide for building a blog with Joomla in his new book.

Offering a well rounded look at the process of building a Joomla powered blog site, including suggestions on everything from choosing the right template and other extensions, to content strategies, he has done a great job of presenting a ton of information in a structured and easy to follow guide. There's so much information in this book it would be good resource for someone looking to build ANY type of Joomla site.

It's a great investment for anyone looking for guidance with setting up their Joomla powered blog site, written by one of Joomla's best bloggers!

– TJ Baker, joomlashack.com
Kristoffer Sandven has finally written the book that many in the web development community has been waiting for. This book is essential for anyone wanting to create a robust publishing infrastructure with Joomla and the author pulls out all the stops as he details every aspect of creating and using Joomla for your blog. But this is not just a technical manual for blogging. The author also addresses important aspects for blogging like SEO, charging for your blog, adding features, etc. In short, if you need to set up a blog or similar web site to publish content, this book will give you everything you need to get it done, keep it going and be successful!

— Victor Drover, Anything Digital
Kris has been one of the pioneers in blogging with Joomla. Joomlablogger has been one of the references for all of us blogging with this CMS for years. The Joomla Community acknowledged that by nominating him in the "best blog" category on 'JAB 10' and awarding him with a JOSCAR during 'JAB 11'. Apart from his long experience as a blogger, he has a deep knowledge of Joomla and SEO, and with such ingredients he could only write an incredible book. Very professional and comprehensive. As I said during one of my presentations in JDay Spain 2011: Kris' book will become the 'Bible' of blogging with Joomla. — Isidro Baquero, Joomla! Leadership (CLT) / Freelance site builder, gnumla.com
Kristoffer Sandven is at the leading edge when it comes to using Joomla for blogging. The detail covered in his Blogging with Joomla book is simply mind-boggling, which makes it a must for new or even seasoned Joomla users. — Anthony Olsen, Joomla Bamboo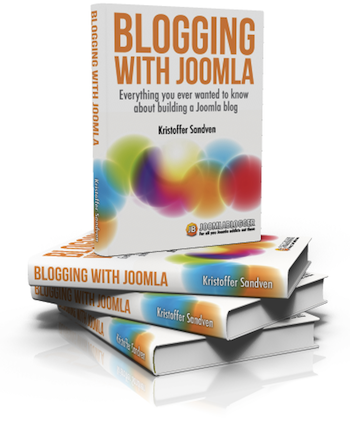 This book is packed with high value pro tips, advice, and insights.
287 pages - and it sells for just US$ 9!
Note: This book is an e-book for download, not a physical book.
Simply click the Buy now button below.
You'll be taken to a page where you can make your payment via PayPal or Credit card and get immediate access for download.
Get started blogging with Joomla today!
buy
Table of Contents
Here's a sneak peek at the table of contents for the book:
Want a printed version?