The Joomla! project launched the official 'Joomla Community Magazine' today.
I must say, the magazine looks amazing. The content is really well written, and the design is very slick. As far as I know, the community magazine is based on K2 by JoomlaWorks. And it's designed by Komrade.
The magazine is planned as a monthly publication. It's organized almost like an offline magazine, with editions, editorials etc. Of course, all the content will be available in the future, so this will be a great resource for Joomla information.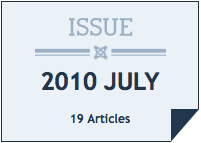 The July issue consists of 19 articles, covering a large variety of topics. These are the sections of the magazine so far:
Designers Studio
Developers Workbench
Did you know...?
Editor's Introduction
Extensions and Services Evaluations
Feature Stories
Joomla! Events & Joomla! User Groups
Joomla! in the Press/Media
Leadership Connections
Who is the magazine for?
There are 28 people on the magazine team at this time. The editor, Paul Orwig, writes the following in his editorial:
We are here to tell stories about websites and stories about software, but most of all we are here to tell stories about people. People who create and innovate with Joomla!. People who use Joomla! to share with others, help others, and connect with others. People who extend it and design for it. And people who volunteer their time to build it, improve it, test it, support it, document it, administer it, secure it, answer questions about it, translate for it, and lead it.

But in addition to all of that, we also want to tell your story. We have put a lot of effort into building a team of friendly and helpful editors who want to help you with your Joomla! story.
The team wants the community magazine to be magazine for everyone in the community. This means it will be easy for you to contribute articles to the magazine.
From the official announcement on Joomla.org:
Engaging the community and encouraging participation is central to the JCM's mission. Each article provides the opportunity for community members to leave comments and interact with each other and the author. Each JCM article also features a "Contribute" module in the upper area of the right sidebar. In that module is a brief summary of what subjects that topic covers and what type of community participation is encouraged, along with a link to allow community members to take the next step of submitting an article or idea for an upcoming article.
Translations - room for improvement
The magazine has included a 'translate' function. I was happy to see this, and thought everything had been translated into lots of languages. However, it seems they've chosen Google Translate or something. The Norwegian translation was useless and just gibberish. It might be better in other languages, but if it was me, I would remove the translations menu. Or at least, telling the users that the translation is done automatically and not by human translators.
Great work
The magazine is great - and I can't wait to see where this will be going in the future. I want to thank the Joomla! Community Magazine team for the incredible work they've done, and wish them the best of luck with future editions!