A new sh404SEF release, version 1.5.8.432, was published yesterday that natively supports the popular social networking extension JomSocial as well as the forum application Kunena.
'Native support' means that, in addition to getting human-readable URLs, you can now configure how the URLs are created with simple options right in the sh404SEF configuration screens.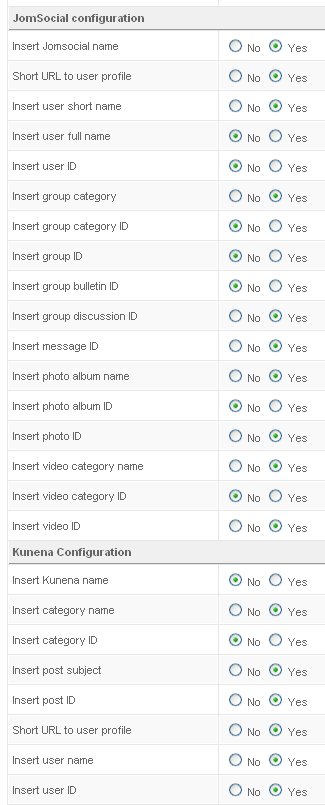 Victor Drover of Anything Digital writes in a press release:
sh404SEF has long provided SEF URL rewriting for Joomla-based community extensions such as Community Builder and forums such as the predecessor of Kunena, Fireboard.

It was only natural then that we continue to support popular and useful extensions in these categories, especially with the recent announcement that the next version of JomSocial would be licensed as GPL. As with all of the native sh404SEF plugins, they are included at no extra cost.
Full change log for sh404SEF 1.5.8

[2010-04-07] Version 1.5.8.432
--------------------------------------------------------------------------------

2010-04-07
[new] Added short url to user profile for Kunena forum
[bug] & not properly handled in some cases
2010-04-06
[new] Allow user to select Itemid for 404 page from the configuration, 404
page tab, instead of from Very adv. tab
Tracker #77
2010-04-05
[new] Add Kunena forum support, with multiple backend settings
[new] Add new replacement characters for Romanian language
2010-04-04
[new] Add Jomsocial plugin, plus many settings in backend
Tracker #71
2010-04-01
[new] Add Chrono form plugin
Tracker #110
[chg] Use green color for backend message if $live_site is actually set
Tracker #109
[bug] Home page title does not use user set values
Tracker #111
2010-03-31
[bug] Joomfish compatibility : sometimes menu items order can get mixed up
when changing languages
2010-03-27
[bug] Notice error if insert article id is activated, but no article id is
supplied in url
2010-03-26
[bug] Virtuemart sef plugin can generate notices if product does not have a
manufacturer
Tracker #104
2010-03-15
[chg] Don't show append to title and prepend to title on home page, so that
user has full control on home page title
Tracker #108