After years of waiting, the new, major version of Virtuemart was released today. This new iteration of Virtuemart is completely rewritten, and is compatible with both Joomla 1.5 and 1.7 (soon to be 2.5).
Built on the Joomla MVC framework, VM 2.0 takes a long step forward in improving the most popular and widespread ecommerce solution for Joomla.
New features
Virtuemart 2.0 comes with a lot of new features:
Compatible with both Joomla 1.5 and Joomla 1.7.
Products with expandable custom fields
Advanced Tax system
True multi-currencies management
Checkout process as registered user or as guest
One-click checkout or multi-page checkout
Multilingual store as a native solution
SSL checkout
Based on Joomla MVC framework with all its advantages:
Template overrides
Implementation of Joomla Plugins for: payment, shipment, coupons, calculation rules, custom product fields, ...
Simple installation and integration of other joomla extensions.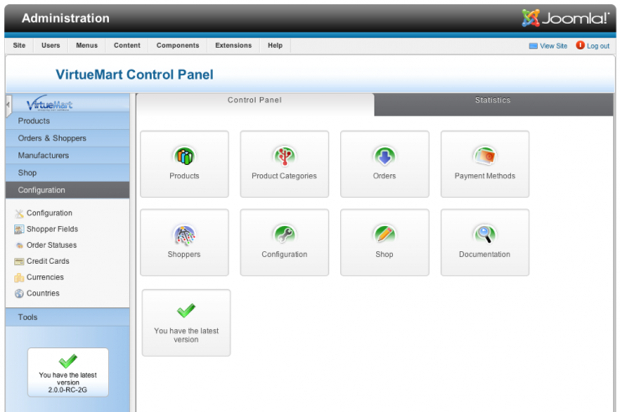 The Virtuemart 2.0.0 control panel
Migrating from 1.1.x
The upgrade from 1.1.x will not be a patch upgrade. There are several major changes in the system. Thus, you will need to migrate (like Joomla 1.5 to 1.7). This involves some manual steps. These steps will be provided by the Virtuemart team.
For me personally, the release of Virtuemart 2.0.0 will give me an opportunity to update my shop so it is on the latest version of Joomla. This has several advantages, as you already know. So when migrating to VM 2.0, I will migrate to Joomla 1.7 (or rather 2.5) at the same time. It makes sense, doesn't it?
Not ready to update?
Joomla 1.5 will be supported for some time. And if your site is very complex, you might need to wait a bit with migrating. The good news is that the Virtuemart project will offer security and maintenance releases to the 1.1.x series for quite some time. So, you still have some time to decide. In the coming weeks and months, the team will be working on plug-ins for integration with other systems. And I guess it will be some security and bug fixing releases before the product is really stable (there always is).
Dive into it!
The download for Virtuemart 2.0 can be found here. If you are a Virtuemart user, get your feet wet and start testing this new version. I know I will be testing, tweaking and getting to know this new software in the coming weeks and months. You can read a pre-release review of VM 2.0 here (written by Chill Creations). My online shop really needs an upgrade, and VM 2.0 came at a very good time for me. I have actually been looking at some other ecommerce solutions lately, just to keep my options open. It will be exciting to see if Virtuemart 2.0 is able to solve the challenges that my current webshop faces. I will let you know, for sure!