Yesterday, the Joomla project released version 2.5.5 of our favorite CMS. This version contains quite a few new features, most of which will save you time when working on Joomla sites.
You should also note that if you're on Joomla 2.5.4, this version should be updated using the new Joomla Update component, and not the Extensions Manager. Read on for step-by-step instructions on how to do this.
New features
The following new features have been added in Joomla 2.5.5:
Add abiltiy to copy a template (Mark Dexter)
Implementation of Terms of Service (Peter Osipof, Jean-Marie Simonet)
Option to disable the ability to change the Username in Profile (Leo Lammerink, Jean-Marie Simonet)
Set the CSS class for JForm field label (Viet Vu)
Add counter to redirect component (Ronald Pijpers)
Add feature readmore in feed items. Also bugfix for fulltext in feed items.(Jurian Even, Jean-Marie Simonet)
Media formfield: show preview (Benjamin Piek, Jean-Marie Simonet)
Add the ability to limit the number of password resets within a time period (Mark Dexter, Sudhi Seshachala)
Improve user feedback during automatic version update (Mark Dexter, Ofer Cohen, Jean-Marie Simonet)
Add buttons in each menu selection tab in the module admin manager. (Mathieu Cattin)
Multi-File Upload (Elijah Madden)
More information about the update
Statistics for the 2.5.5 release period
Joomla 2.5.5 contains:
11 new features added
2 Security issues fixed
113 tracker issues fixed
How to update to Joomla 2.5.5
If you are already on version 2.5.4, the easiest way to update to this version is to use the new Joomla Update component.
Before updating, make sure you do a backup of your Joomla site.
Go to the Joomla Administrator Control Panel and click the Joomla Update button, which should look something like this:
Now, click the "Install the update" button. For most sites, the "Write files directly" option should be fine.
Note: If you don't see any update message or mention of Joomla 2.5.5, go to the Extensions Manager -> Update and click "Clear Cache". Then, go back to the Joomla Update screen.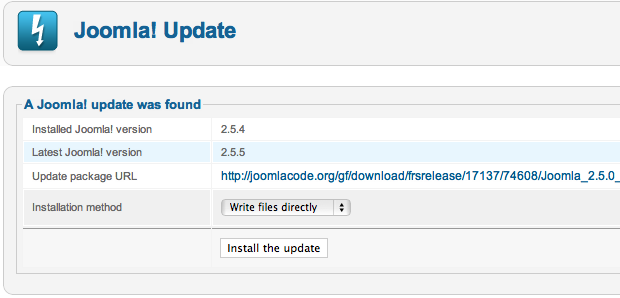 The update will start: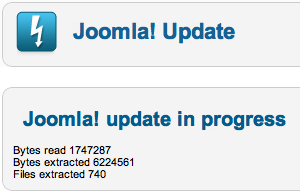 When done, you will see this message, and Joomla is updated to version 2.5.5: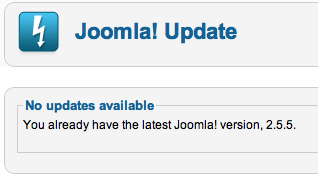 Update options
In the Joomla Update component, you will find an Options screen (top right hand corner). In this screen, you can choose what source to use for updates. For most sites, the Long Term Release (recommended) is the one to use. However, you might want to use the other ones if you're a developer or otherwise want to experiment.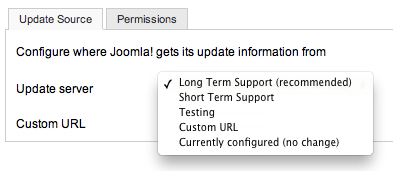 For more ways to update Joomla, read the documentation.