Displaying items by tag: CDN
The speed at which your site loads is very important. Firstly, a fast loading site will have your readers stick around longer. If they are served content fast, it is more tempting to click on another link to read more. Nobody wants to wait for a slow site.
Secondly, speed has become a major issue when it comes to SEO. Search engines, and particularly Google, now take the loading speed of a page into consideration when ranking the page for result pages. In particular, slow loading sites will be pushed down in the search results. The reason is that Google wants to serve its users with the most relevant content available, and in the shortest time possible. Giving people links to slow sites is not a good idea, so fast-loading sites will now appear higher in the search engine result pages.
There are several things you can do to optimize your site for speed. One way is to limit the use of installed extensions. In this post, you'll learn some more ways to improve the loading speed of your blog.
H
ere are some interesting Joomla blog posts I found during week 43.
Joomla 1.5.22 was released last week, JoomlaWorks released a CDN plugin for Joomla, I found a great blog post from nonumber.nl about plugin order, and there are some posts about the growth of Joomla.org and the branding of the Joomla project, to mention some of this week's top stories.
Enjoy the read and have a great week!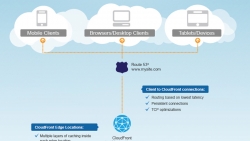 According to Wikipedia, a content delivery network or content distribution network (CDN) is a system of computers containing copies of data, placed at various points in a network so as to maximize bandwidth for access to the data from clients throughout the network. A client accesses a copy of the data near to the client, as opposed to all clients accessing the same central server, so as to avoid bottleneck near that server.
Content types include web objects, download-able objects (media files, software, documents), applications, real time media streams, and other components of internet delivery (DNS, routes, and database queries).
There are currently three main CDN extensions available for Joomla, and I've just installed one on this site. I'm happy with the result - I hope you notice the difference in speed! In this post, I'll look at what CDN is, take a look at two different CDN extensions for Joomla and how to set up CDN using jomCDN from corephp.