In response to overwhelming interest and requests from the Joomla community, the Joomla Project announced that the Joomla Resource Directory goes online today at resources.joomla.org.
If you're a Joomla user, there's no easier way to find developers, service providers, and other valuable resources. This is a huge, and long-awaited, step forward for the Joomla Community, as it provides a way even for smaller companies to show off their services without paying for them.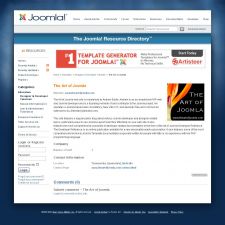 "We think this will be a great way to connect end-users and service providers in the Joomla Community," said Wendy Robinson of the JRD Team."Most small businesses can't afford to advertise on the Joomla.org sites and this will provide them wide exposure. With close to a million visitors and 14 million page views a month, the JED has proven that there is wide interest in products related to Joomla."

The JRD builds on the success of the JED—the most popular place to find Joomla Extensions. Both are powered by the Mosets Tree 1.5 directory extension, a GPL extension that also powers the Joomla Site Showcase.
For now, the JRD is divided into the following categories:
If you're a service provider, listing in the Resource Directory is free of charge (premium listings will be offered in the future for a fee). This includes consultants, template designers, tutorial sites, and just about any other Joomla service. Users can post reviews of these services and share their experiences with the community.
I think this website will be hugely popular as it grows in size and more and more developers, designers and others register their services in the directory.
If you are a provider - please don't hesitate to register your site - I'll head on over there now to do my part :)