Every month, each of the major Joomla templat>e clubs release a new template.
In this post, I take a look at the premium business Joomla templates released for August 2011.
There are templates from Yootheme, RocketTheme, Joomla Bamboo, JoomlArt, JoomlaShack, Shape5 and CloudAccess in this round-up. I have taken a quick look at each one, and I've gathered a few details about each one. You should be able to find something that fits your needs and style.
Yootheme: Shelf
YooTheme has created a nice looking theme this month, with an innovative shelf feature. This shelf is a good way to showcase products or services. It uses the Widgetkit Slideset extension to achieve the effect. It is a sleek way to show multiple sets of items and uses smooth effects while looping through them. Looks really nice! Of course, using the YooTheme icons gives the slide set an even better look. As always, the look of your site will depend largely on the quality and consistency of your images. If you mix images of different styles, dimensions and unmatching colors, the result will less than desirable. So, for a feature like this to work well, you need to invest some time into producing good images to display.
The shelf template also enables you to choose from 8 style variations with high resolution background images and combine them with 5 different colors to create your own custom website look.

As with all YooTheme templates it has built-in support for YooTheme's own CCK, Zoo.
Yootheme Shelf features
Available for Joomla 1.5, 1.7 and Wordpress
8 style variations available
Choose from 5 colors and 10 fonts
3 module styles combinable with 4 badges and 7 icons
Custom style for Widgetkit Slideset and Slideshow
Flexible template and column widths
All Warp framework features are available
RocketTheme: Camber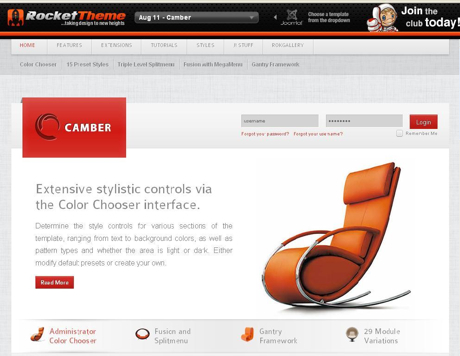 Camber, the August 2011 template release from RocketTheme, features Color Chooser stylistic controls, allowing you to easily and swiftly modify the color scheme of the template in just a few steps. Select from an assortment of 15 presets with varying colors, overlays and patterns.
The template looks more stylish and clean than many of the previous RocketTheme templates. I have always felt that most of RocketTheme's templates have a really heavy looking design. This time around, the designers have designed a template with a lighter feel to it. Elements are more subtle and the design can work for many types of businesses. I like how elegantly the RocketTheme extensions have been integrated into the template.
The template has support for the new RokGallery extension, with matching styling included. It also supports several other popular RocketTheme Extensions such as RokTabs and RokNewsPager. Additionally, the standard selection of features in RocketTheme templates, such as the Gantry Framework and mobile support, are also there.
RocketTheme Camber features
Joomla 1.5/1.7 versions
RokGallery Extension Integration
Gantry Framework
15 Preset Styles
Loading Transitions
RocketTheme Extensions Styling
Custom Content Typography
Fusion with MegaMenu
Triple Level Splitmenu
78 Module Positions
29 Module Variations
FF, Safari, Chrome, Opera, IE7+ Compatible
W3C XHTML 1.0 / CSS Valid
Joomla Bamboo: Meridian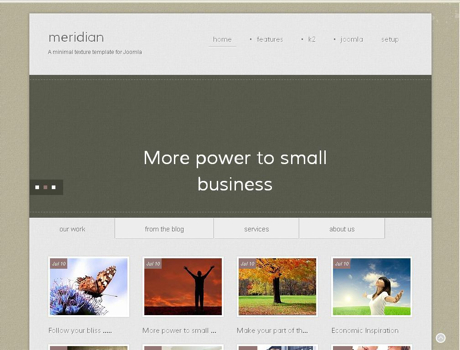 This month's template from Joomla Bamboo is a grunge-looking template with subtle details and earthy colors. Personally, I think it is a nice looking template. Perhaps a bit simple, but with good images and content it can make a really nice site. The power of this template is really the huge amount of variation you can get in colors by adjusting the template framework. That makes it easy to create a unique combination that fits your own or your client's branding. This is the template to use if you don't want the design to compete with the content.
Joomla Bamboo Meridian features
Subtle textures, minimal grunge elements and sharp lines combine to create a clean and dirty grunge Joomla template
Combine four elements to create your own colour scheme
Unique K2 Joomla template
Built on the Zen Grid Framework
Joomla 1.5, Joomla 1.7 template and quickstart available.
Source PSD and PNG included
JoomlArt: JA Ironis
JA Ironis from JoomlArt is a great template for an event. I really like the fresh, modern look and bright colors. There are boxes, but the lines are broken by text bubbles intersecting the content boxes. I think the template looks clean and fresh. Also, it comes with styling for K2, which is really nicely done.
JoomlArt JA Ironis features
Running on T3 Framework Version 2
7 color options
4 Menu options: JA Split, JA Css, JA Dropline & JA Mega menu
Inbuilt Google Fonts configuration
Inbuilt CSS and Javascript Compression
Joomla 1.5.x & Joomla 1.7.x (coming up soon) compatible
Cross Browser Support: IE7+, Firefox 2+, Safari 3+, Chrome 8+, Opera 9+ and other Standards-Supporting Browsers.
XHTML 1.0 Transitional
CSS Validates
Valid 508 Accessibility
Well-commented template_css.css and index.php file for flexible customization
JoomlaShack: Halcyon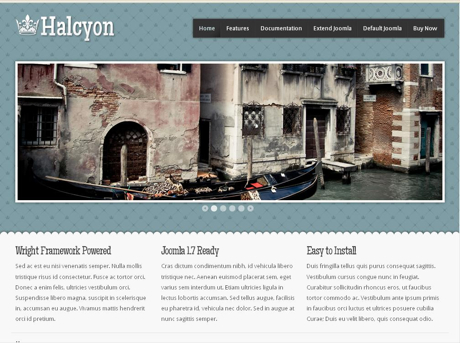 This month's template from JoomlaShack is well designed and well coded. I really like the subtle use of colors and the use of Google Fonts in the H1-H6 and module titles.
The main menu is the only thing I think is a bit off. For me, it doesn't really fit the style of the backgrounds and overall template design. Other than that, I think Halcyon is a really good template. The JoomlShack guys know how to build SEO-friendly templates, and this is no exception.
Another great thing about this template, and products from JoomlaShack in general, is the documentation. Everything you would want to do with the template is well documented. There are tutorials on how to change the logo, how to change the background color and lots more.
JoomlaShack Halcyon features
5 Template themes
9 custom module styles
12 collapsible module positions
Elegant typography
One Zip file for 1.5/1.6
Progressive enhancements
Custom module chrome
5 Background Textures
3 Container Borders
Joomla8: YJ Youwinner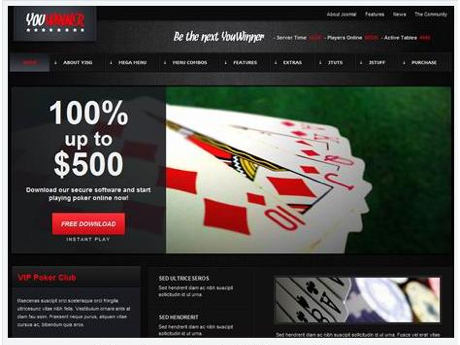 This is not a template I would use myself, but I'm not running a poker site. If you're into that kind of business, it might be something for you. I guess it can be used for other types of other sites as well. Still, it is a very dark template. The three included styles only change the color of highlights (module headers, links etc) to red, blue or green. There is a tutorial on how to change this to another color (adding a new style), but if you want another background etc you will have to do some CSS tweaking.
Joomla8 YJ Youwinner features
YjSimpleGrid powered
51 collapsible module positions
PSD files included
Joomla 1.5 template
Joomla 1.6/17 template
Joomla 1.5/1.6/1.7 demo
CSS dropdown menu
SMooth dropdown menu
Split menu
SMooth Dropline Menu
Dropline menu
3 CSS styles combos
Flexible frontpage layout
Native RTL Support
Server side Compression
Demo Starter
Shape5: Callie Rush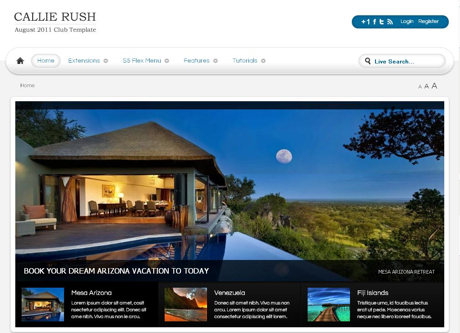 Callie Rush is a template by Shape5. The design is nice enough, even though the rounded corners with shadow is a bit over-used. The template has a lot of different possibilities and implements things like Google fonts, a large frontpage slideshow and a mobile template. It also has a mega menu (like many templates today have) with options for descriptive subtitles for links and images in the menu. I think the small body text looks a bit odd (a Google font). In my world, body text should be larger and highly legible.
Shape5 Callie Rush features
S5 Vertex framework platform
94 collapsible core template positions plus 4 mobile positions
5 custom module suffixes
Dynamic module titles
Custom highliight color
S5 Flex Menu integrated
Choose fluid or fixed template widths
Custom column, page and row widths
Mobile device support
Designed with CSS3 - Limited support for IE7 and IE8 through PIE
RTL language support
Drop down panel
3rd Party Stylings for Tienda, Virtuemart, and K2
Google Fonts
SEO optimized
Fixed tabs
Menu scroll to section
Site shaper available (Joomla install that includes demo data)
SQL dump available
Sliced PSDs included
Multibox enabled
Lazy Load enabled
Tool tips enabled
100% tableless CSS
Validates with XHTML 1.0 Transitional
Validates with CSS Level 3 with browser specific calls
Compatible with the following browsers: IE7+, Firefox 1.5+, Opera 9+, Safari, Advant and Chrome
Cloud Access: Cloudbase 2.0
CloudBase 2.0 is a template created by CloudAccess.net. It's based on Gantry Framework developed by RocketTheme. The design itself is very boxy. Everything is in boxes, and there are only two module variation available. I like to have a few options for the modules, to style content in different ways. In this template, the options are limited. There are 11 color variations available, though. And with 60 module positions, you should be able to build a flexible site (do we really need that many module positions?).
CloudAccess Cloudbase 2.0 features
11 template presets (color variations),
10 background patterns,
One of the most advanced system of picking colors for each template element
Improved "Scroll to top" feature,
Equal height for modules,
60 module positions.
Based on the Gantry framework
And, by the way: The template is free