Every month, each of the major Joomla template clubs release a new template. In this post, I take a look at the premium business Joomla templates released for July 2011.
An interesting thing this month is that both the Joomla Bamboo Newscycle, the JoomlArt JA Bistro and the Yootheme Downtown templates use the ribbon shadow effect for their modules. Of course, they've done it in a slightly different way for each one. Apparently it's a coincidence, so it seems it's a popular design element these days.
Yootheme: Downtown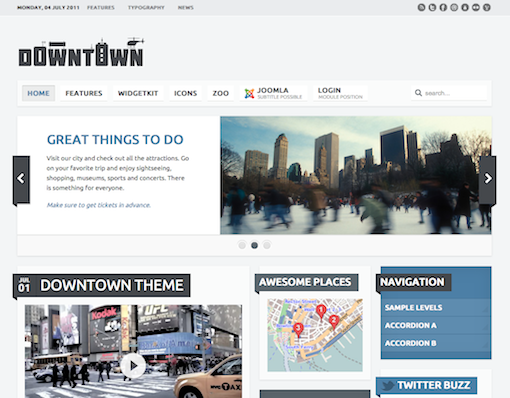 This month, YooTheme has released a template kind of similar to their May 2011 template Nano. The Downtown template looks a bit similar to the Nano template "Blocks" style, but with more color styles. The design is cool and modern, very well suited for a blog or a small company web site.
Easy to create your own styles
Even though most of the styles have quite bright colors in them, you can find a couple of toned down styles. And you could always create your own color styles to suit your needs better.
Downtown comes with a fresh design and a broad range of easy to combine elements like color schemes, background textures and fonts. This makes it pretty easy to create your own custom style. Additionally Downtown brings you cool features like CSS3 animations, a broad range of module variations with optional ribbons for headlines and a new custom style for the slideshow of the YooTheme Widgetkit component. YooTheme's extensions are well integrated in the template, and it's easy to achieve the look you want for the site. At least I think so ;)
Widgetkit
The Widgetkit Media Player is a HTML5 audio and video player completely built with HTML and CSS. You can easily embed video files into your website by using the HTML5 video element. A Flash player fallback is included for all unsupported browsers. This is a neat feature of the Widgetkit that will enable you to publish videos to the iPad, iPhone and other devices without Flash support.
Powerful framework
What I like most about the YooTheme templates is the Warp framework. It's very easy to adjust the CSS and styles. And everything is well documented in the YooTheme forum and web site. I use the YooTheme Nano template for Joomlablogger, so I know the framework very well. I've also started using this framework on a couple of Joomla 1.6 sites I'm working on.
The new way of handling styles in Warp 6 is a bit harder to comprehend than previous versions, but as soon as you understand it you'll be adding styles and module variations as never before.
YooTheme Downtown features
Available for Joomla 1.5, 1.6 and Wordpress
Choose from 8 styles, 5 textures, 7 colors and 8 fonts
Custom mobile theme to match the theme design
2 module styles combinable with 4 badges and 6 icons
Enriched with CSS3 goodies
All Warp framework features are available
More info about YooTheme Downtown
RocketTheme: Reflex
Reflex, the July 2011 template release, features the debut release of the new RokGallery extension, a gallery solution built with a custom tag-based architecture, bridging native style functions with a rich, intuitive web interface. Stylistically, Reflex is elegant with six style variations, and integrated support for additional RocketTheme Extensions, alongside a standard assortment of custom typography, menu options, and the Gantry Framework.
Reflex is the first template to show RokGallery, an advanced new multiple tagging gallery solution for Joomla, with integrated styling and accompanying documentation, instructing you on using its simple, but powerful feature set.
RocketTheme Reflex features
Joomla 1.5/1.6 versions
[NEW] RokGallery Extension Integration
[NEW] RokGallery module w/19 new transitions
Gantry Framework
6 Preset Styles
Loading Transitions
RocketTheme Extensions Styling
Custom Content Typography
Fusion with MegaMenu & Splitmenu
78 Module Positions
19 Module Variations
FF, Safari, Chrome, Opera, IE7+ Compatible
W3C XHTML 1.0 / CSS Valid
More info about RocketTheme Reflex
Joomla Bamboo: Newscycle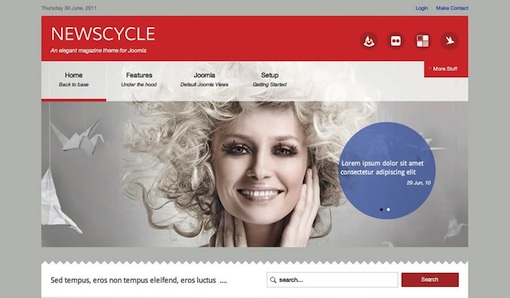 Joomla Bamboo always delivers clean and minimal Joomla premium templates. This month is no exception. The Newscycle template is based on the JB Zen Grid framework and is well suited for a news-driven web site. The template takes advantage of some of the Joomla Bamboo extensions to present content in a more elegant way than is normally possible with Joomla. You can use either Joomla core content or the K2 component. The JB extensions have support for both systems.
Clean and simple design
The design is, as always with Joomla Bamboo, clean and simple. The template demo is heavily based on good images, so to create a nice site with this template I guess you will need some good photos to go with it. But that goes for any site. Without photos or other illustrations, any site will look quite dull. The Joomla Bamboo templates are for those who want an elegant Joomla site.
Well documented
There is some setup required to replicate the layout of the demo site, but that's all explained thoroughly in the documentation. I've done this type of setup a number of times, and I find it easy to do.
Joomla Bamboo Newscycle features
Big slideshow, colourful ribbons and funky date styling.
Combine three elements to create your own colour scheme.
Unique K2 Joomla template.
Built on the Zen Grid Framework.
Joomla 1.5, Joomla 1.6 template and quickstart available.
Source PSD and PNG included
More info about Joomla Bamboo Newscycle
JoomlArt: JA Bistro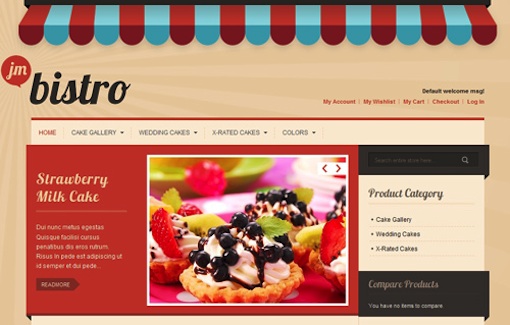 July 2011 brings JA Bistro - Joomla Restaurant Template for Joomla 1.5 and Joomla 1.6. It comes with seven color styles and K2 component support (Joomla 1.5 only). The template is stylish, and features Google fonts for headings. This gives it a nice appearance. Still, I can't help but think that this style is a bit too specific and won't fit too many sites out there. Unless you're running a restaurant or cafe, you probably will be looking elsewhere for a template this month.
That said, if you remove or change the top illustration by customizing the CSS of the template (quite easy if you know some CSS), I think the template can be used for more than a restaurant site. I like the design and the different modules and extensions used have been nicely styled to fit the overall appearance.
Framework
The template is powered by the T3 Framework version 2 and it comes bundled with multiple complimentary extensions.
JoomlaArt JA Bistro features:
Available for Joomla 1.5 and 1.6
K2 support (Joomla 1.5 only)
7 color styles
Includes a number of complimentary extensions
Running on

T3 Framework Version 2

4 Menu options: JA Split, JA Css, JA Dropline & JA Mega menu
Built-in Google Fonts configuration
Built-in CSS and Javascript Compression
Cross Browser Support: IE7+, Firefox 2+, Safari 3+, Chrome 8+, Opera 9+ and other Standards-Supporting Browsers.
Valid 508 Accessibility
Well-commented template_css.css and index.php file for flexible customization
JoomlaShack Scenica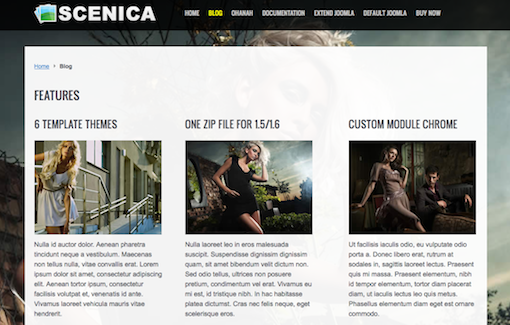 Scenica is a gorgeous new template that's perfect for anyone who wants to present their message in a more visual way. It has some eye-catching slideshow backgrounds, a clean design and an open layout. Thus, it will work well with photo galleries, sites for visual artists, musicians, travel destinations, fashion & apparel sites and events & conferences.
The design of Scenica is very elegant, and the large images the designers have used really makes the template stand out. The front page is quite different from most Joomla templates. Take a look for yourself, it's quite cool.
Scenica also has built-in styling for the new Joomla events management extension, Ohanah.
JoomlaShack Scenica features:
6 Template themes
Built-in slideshow
9 custom module styles
12 collapsible module positions
Built-in Ohanah styles
Elegant typography--including built-in Google font support, list/bullet styles with custom icons and "create-your-own" CSS button styles
One zip file for 1.5/1.6
Progressive enhancements
Custom module chrome
More about JoomlaShack Scenica
Speed comparison
I did a quick check of load speed for each of the templates using the Google Page Speed extension for Google Chrome.
The results were (higher number is better):
This can depend on a number of factors, of course. Server speed and location has something to do with this performance. However, I think it's an indicator of how wll optimized each template is for speed.
That was this month's recommended business templates for Joomla. Stay tuned for an update next month.