The Official Joomla Community site was launched earlier this year. Yesterday, the site reached 4000 members.
In this post, you'll meet Mary May from Brazil - she's member no. 4000.
Mary May is from the area of Bahia on the east coast of Brazil. She has three years of experience with Joomla and loves working with it.
I asked Mary to tell us a little bit about herself: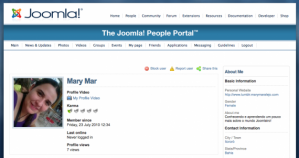 - It is interesting to me that you're devoting attention to me. I think we all have an importance in the world, Joomla! is learning, whether teaching, whether sharing a bit of what we know and learn.

- I came to know Joomla! three years ago, through an engineer. I did not understand too much about Joomla! - I was still very green in everything that is related in this area. However, I fell in love with Joomla!, love at first sight then, due to ease of learning, due also to the great help that Joomleros are always willing to give, I plunged into the world of Joomla!, in which I am still an apprentice.
- I use Joomla! for various purposes, some of them personal goals. The first time I've entered the world of Joomla! websites was a site for my small town, where I had the opportunity to highlight events and pay homage to several people. Come Joomla! that was very easy, because it provided the tools necessary for what I wanted.
- Another website that is very important for me is http://www.fbtm.com.br/. It makes me actively participate in the sport I play, then I put it between my sport and my physical virtual sports, where I can unite the useful and agreeable.

- The decision to join people.joomla.org came mainly through Twitter. I saw a large number of updates and people using Joomla. Then I noticed the importance of sharing what little they know and the opportunity to learn. People.joomla.org socially has opened doors for all those interested in Joomla! and has sought to create a large group willing to share ideas and experiences.
Congratulations to Joomla on reaching 4000 members on the site, and to Mary Mar for becoming part of this international online community of Joomla users. Let's reach 5,000 - 10,000 - 100,000 members!
Thanks to Brian Teeman for the screenshots.
---
In the spirit of an international community, Mary provided her answers in Spanish and Portugese as well :-)

Spanish

Es interesante la atencion que me estan dedicando, creo que todos tenemos una importancia en el mundo Joomla! sea aprendiendo, sea enseñando, sea compartiendo un poco de lo que sabemos y aprendemos.

- Conoci Joomla! hace unos 3 años, a traves de un Ingeniero de Sistemas, yo que no entendia exactamente nada de Joomla!, yo que aun era muy verde en todo lo que esta relacionado en esta area, me enamore de Joomla!, amor a primera vista, entonces, debido a la facilidad de aprendizaje, debido tambien a la gran ayuda que los Joomleros estan siempre dispuestos a dar, me he sumergido en el mundo de Joomla!, en el cual aun soy una aprendiz.

- Utilizo Joomla! para vários objetivos, algunos de ellos, objetivos personales. La primera vez que he entrado en el mundo Joomla! fue para um sitio web de mi pequeña ciudad, donde tube la oportunidad de destacar acontecimientos y rendir homenage várias personas. Com Joomla! eso fue muy fácil, pues me proporcionaba las herramentas necesarias para lo que queria.

- Este sitio web es de gran importancia para mi: http://www.fbtm.com.br/. Pues me hace participar activamente del deporte en que juego, entonces me puse entre mi deporte fisico y mi deporte virtual, donde puedo unir lo util y lo agradable.
- La decision de unirme a people.joomla.org viene a traves principalmente de Twitter, pues acompaño un gran número de atualizaciones de personas que siguen y utilizan Joomla!, entonces he notado la importancia de compartir lo poco que se y de aprender lo mucho que no se. People.jooomla.org ha abierto las puertas socialmente para todos los interesados en Joomla! y ha buscado crear um gran grupo dispuesto a compartir las ideas y las experiencias.

Brazilian Portuguese

É interessante a atenção que me dedicam, acredito que todos temos uma parcela de importância no mundo Joomla! seja aprendendo, seja ensinando, seja compartindo um pouco do que sabemos e aprendemos.

- Eu conheci Joomla! a uns 3 anos através de um engenheiro de sistemas, eu que entendia exatamente nada de joomla!, eu que ainda era muito verde em tudo o que era relacionado nesta área, me apaixonei por Joomla!, amor a primeira vista, então, devido a facilidade de aprendizagem, devido também a grande ajuda que os Joomleiros estão sempre dispostos a dar, mergulhei no mundo de Joomla, a qual ainda sou aprendiz.

- Utilizo Joomla! para vários objetivos, alguns dos quais, objetivos pessoais. A primeira vez que entrei no mundo Joomla! foi para um website de minha pequena cidade, aonde tive a oportunidade de destacar acontecimentos e homenagear várias pessoas. Com Joomla isso se tornou fácil, pois me proporcionava as ferramentas necessárias para o meu ideal.

- Este site é de grande importancia para mim: http://www.fbtm.com.br/. Pois me faz participar ativamente do esporte ao qual participo, entao me coloco entre o esorte físico e o esporte virtual, aonde posso unir o útil ao agradável.

- A decisao de me unir a people.joomla vem através principalmente do Twitter, pois tenho acompanhado um grande número de atualizações e de interesse de quem esta no mundo Joomla!, então percebi a importância de compartilhar o pouco que sei e de aprender o muito que não sei. O people.joomla abriu as portas socialmente para todos os interessados em Joomla! e buscou criar um grupo imenso e a favor de compartilhamento de ideias. O grupo vem cerscendo e eu quero crescer junto com o grupo.