Joomla news (362)
Even though I try not to chase the news (it wears you out, I promise you), there's a lot going on in the Joomla commounity. I will comment on certain things happening with Joomla, other stuff I will just link to in my Twitter account. Enjoy!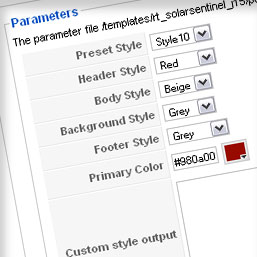 Most of the time, using a ready-made template is a good choice and provide you with great value and time-saving functionality. However, there are times when I curse the day I downloaded the glossy, shiny, all-bells-and-whistles template and installed it on my Joomla site.
When I'm developing sites for my own use, using a template from RocketTheme, Yootheme or another company is a great choice. I have the 100% creative control of the project, and can decide if a functionality is needed or just "nice to have".
However, if I'm developing a site for a client, the case might be another. The client may have wishes that at first sight can look easy to implement, but when I start adding new functionality to the template I sometimes experience odd results.
Joomla 1.5 was a giant leap for Joomla-kind. And with the upcoming 1.6, Joomla users will be even more addicted to this CMS than before.
Join me as we explore some of the goodies you can expect from Joomla 1.6, and what it will mean for your site.