If you're the administrator of a Joomla website with many editors and publishers, a constant challenge is to keep updated on who does what on the site.
The built-in notification features of Joomla 1.5 are not good enough as I see it.
Luckily, there are options available through third-party extensions.
I'm the webmaster of a large Joomla site myself, where local editors edit their own sections of the site. The organization is national, and the local editors write local content for the members in their area. When submitted to Joomla, the new article is read through, edited if necessary, and published by the national editor-in-chief.
Due to the current ACL system of Joomla 1.5, there's no way of controlling who can edit which categories. Thus, we need the extra control to ensure that content is published in the correct place and conforms with the rules of publishing.
Content updates
There's another shortcoming of Joomla 1.5, which will be fixed when the ACL is introduced in Joomla 1.6. It's the fact that, when an article has been published, any user with editor permission can update the content and save it without further approval from the editor-in-chief (publisher). The organization in question has a strict policy on what can be published on the website. Thus, it's very important that the publisher is notified of these updates.
Joomla has a function for notifying the administrator about new content, but the feature is hardly useful. It does not give any specific information regarding what the content is or if it's been updated.
I was much relieved when I discovered the SubmitMailer Free and SubmitMailer Pro plug-ins by PixelPraise a while ago.
The plug-ins provides a customized notification setup for your Joomla site. With SubmitMailer Pro you will be notified when something is added to or updated on your Joomla site. You can choose to notify all Super Administrators, or to notify specific addresses.
You can also choose to have the mail sent in either plain text or HTML.
Feature list:
Receive email notifications for new/updated content items
Receive email notifications for new weblink items Pro Feature
Receive email notifications for new/updated DOCman items Pro Feature
Review and approve items directly via email Pro Feature
Set notifications for custom email addresses
Receive emails in plain text or HTML format Pro Feature
Easily customize email contents for each notification type Pro Feature
Approve articles directly from email
A neat feature of SubmitMailer Pro is that you can approve articles directly from the notification email! If there's no changes to the new article, you just click on a link in the email and the article is published. This feature has saved a lot of time for me lately.
SubmitMailer is available as a free download from PixelPraise. SubmitMailer Pro can be bought for a small fee.
Monitor administrator activity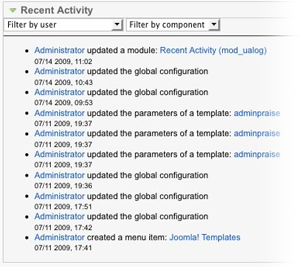 Another useful product from PixelPraise is the Activity Log. This is a plug-in and an admin module which is placed into the cpanel position in the Administrator and presents the latest activity on the site.
The extension records all admin user activity and displays it in the backend. You can filter the log by user and component. The extension does not record activity for third-party components, the Joomla Media Manager and the Joomla Installer. Using this you can easily see what's happened on your site and who did what. Very useful for any site with more than one admin or editor.
You will get PixelPraise Activity Log as part of the AdminPraise2 administrator template, or you can purchase it individually for $5. It's also part of the Admin bundle subscription plan.