The recent upgrade of Joomla! to 1.5.12 included an update of TinyMCE.
The default settings might result in problems with image alignment and other parameters if you don't change some of them in the TinyMCE editor plugin.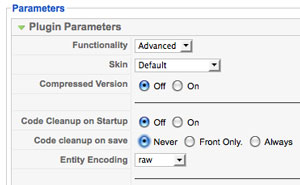 The problem one Swedish user had was as follows: He inserted a picture, entered settings for alignment, horizontal space etc. and everything looked good. Happily he saved the article. When he looked at the article again, all the formatting was gone. What happened?
This is actually very easy to fix. TinyMCE has a setting for stripping code from the text when saving. It's called "Code Cleanup on save".
Go to Plugin Manager and Editor - TinyMCE 2.0. You'll find the setting under Plugin Parameters. The setting should be set to "Never".