A few months ago, I did a post on 9 awesome free Joomla templates. The post turned out to be one of the most popular posts on this blog.
Now, I've collected another 13 free joomla templates. And they're as awesome as the previous ones ;)
All of these templates are created for Joomla 1.5.
Here are some interesting Joomla blog posts I found during week 27.
This week, you'll have the first part of a series on Joomla 1.6 from joomla.org, posts about the Joomla! Community Magazine and some posts about free Joomla! templates.
There is also a post about automated mobile device template switching in the new version of sh404sef, and more!
Enjoy!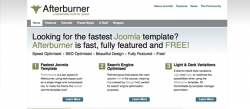 Finding a great template for your Joomla site can be a challenge. There are tons of free Joomla templates out there, but to be honest: Most of them are junk. Finding quality free Joomla templates is important to ensure you can work smoothly with the content, modules and other extensions you want to include.
In this post I take a look at 9 high-quality free Joomla templates. Made by some of the most renowned template providers in the Joomla community.
All of these templates are made for Joomla 1.5.