The most wanted feature of Joomla! 1.6 is probably the new permissions system, called Access Control List (ACL). With Joomla! 1.6 ACL, you are able to define who has permission to do what on the website, called actions, like the login, configure, access, create, delete, edit and edit state.
These permissions are given to a group of users. You can configure the group permissions on 4 levels: Global configuration, Components and, if applicable, for Categories and Items.
Joomla! ACL is a great tool to define your own groups and their permissions. Unfortunately you will probably not enjoy the new Joomla! permissions system immediately due the difficulty to understand how the system works. It can be quite abstract.
This is where the ACL Manager for Joomla! 1.6 comes in!
Joomla 1.6 ACL is quite complex
The inheritance of permissions between groups and levels and the need to check the settings for a group on 4 levels makes it hard to keep an overview of your settings. If you have tested one of the Joomla! 1.6 Beta's you will probably recognize this. The system has already gotten some critisism for being too complex. Quite strange when the first things I heard about the new ACL system was that it would be very easy to use.
Read more about Joomla 1.6 ACL here
ACL Manager for Joomla 1.6
ACLManager for Joomla 1.6 will make it easier to use the Access Control Lists system of Joomla 1.6 and later versions. The extension will consolidate all of the screens into one overview. This makes it easier to see and edit the permissions: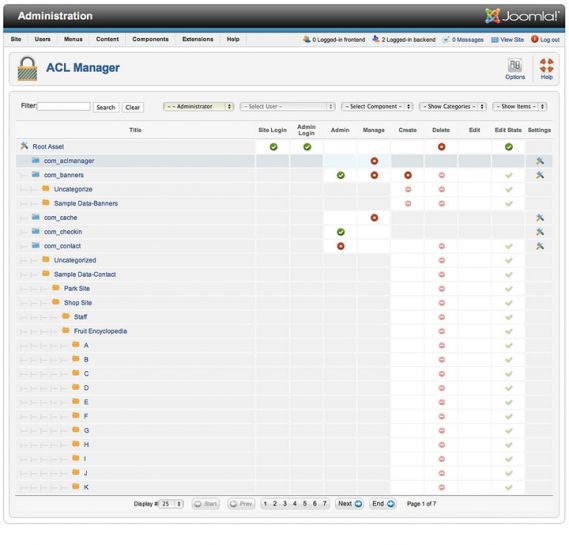 The extension, which will be compatible with Joomla 1.6 or later only, provides you a clean one screen overview of all permission settings over all levels, for a group or user (even if assigned to multiple groups).
The ACL Manager is currently in development by Sander Potjer and is not yet available but expected during Joomla! 1.6 RC period.
A chat with the developer
I had a small chat with Sander about ACL Manager today and he told me he's currently developing the extension by himself. Of course, I had to ask him some more questions: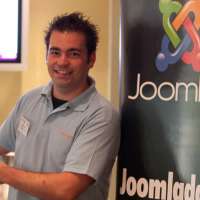 Will ACL Manager be commercial or free?
- I haven't decided yet if the ACL Manager will be commercial or free, I have some other plans for the extension and website that I currently work out, depending on the result of it I will decide. If I decide to go for a commercial version it will have a very low price and I will make sure that users that don't want to pay for it also have some benifits of the project.
What's the reason you had for developing the extension?
- My main focus is to make sure that many people will understand the Joomla 1.6 ACL to get the best out of it and know how to use it for their projects.
- I think that many people underestimate the impact and difficulty to set up a Joomla 1.6 site with good ACL settings. If we don't make it more understandable many users will stick with Joomla 1.5, which is a pity because 1.6 has many other nice new features. I can also imagine that there will be ACL implementors to set up good ACL for complicated websites, like we now have extension developers, designers, or people that are good in converting a design to a Joomla template.
How has the project been received by the Joomla community?
- I posted the screenshots on Flickr a few months ago to see if people liked the idea and if it was worthfull to put energy in the deveopment of it. The community response via twitter, skype, email, and responses from JUG's has been overwhelming, many people concluded that it is a must have to understand ACL and that is should be included into core. So thanks to that great response and feedback I decided to continue with the project, with many new ideas for the ACL Manager. So that's why I have launched www.aclmanager.net this week, and again I received many great responses from all over the world.
- It all started when I was digging into the Joomla 1.6 ACL to prepare a presentation about it on a Joomla bootcamp in Amsterdam, how do I explain it on a understandable way...? Via sketches on paper and Excel sheets, I converted it to an extension. I will do the presentation also this weekend at JoomlaDay UK on Saturday and Sunday.
Functionality
Amy Stephen has written a good overview of the functionality in the ACLManager here. I don't see any reason to go into details as Amy's explanation is so well written :)
To view more screenshots and sign up for release notification, please visit http://www.aclmanager.net/