K2 is one of the most popular extensions for Joomla. The CCK (Content Construction Kit) has been a favorite for a lot of devs for years, me included. Since Joomla 3 was released, K2 has started to seem a bit outdated, though. That's soon to change, with the release of K2 version 3.x.
In this post, you will find a short demo video from JoomlaWorks, showing the responsiveness of the new User Interface. In the example, K2 v3.x is running on a remote (busy) dev server.
The video shows browsing and filtering a list of 100 K2 items, by using the top filters as well as the pagination buttons. Then they switch to "infinite scrolling" mode (no pagination, just a stream of all items).
In a coming video, we will see about 20,000 items inserted in the dev site's database for further testing.
For better quality, switch the video to 1080 HD.
Release date for K2 version 3.x
The release date for the beta release for K2 v3.0.0 is set for July 21st. The beta release will be fully functional, but there might be stuff missing and the UI will probably have a few quirks. A stable (stable as in "ready to migrate your old K2 v2 to v3 release on your production website") will be out late September, early October 2014.
Version 2.7.0
On July 21st, JoomlaWorks will also release K2 v2.7.0, with an updated user interface that is closer to the one you'll find in version 3. This version will be great for those Joomla 1.5 uses who are not ready to jump to Joomla 3.x.
I'm really excited to see the new K2. I have seen a bit more than you see in this video, and the future for K2 really looks bright. As always, the guys at JoomlaWorks produce solid software that will improve how you use Joomla and serve your clients.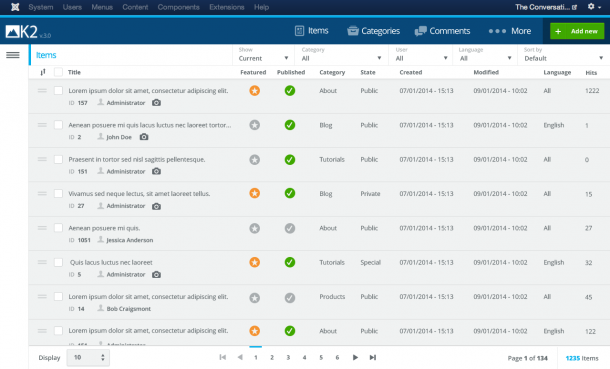 New and exciting!
Some of the features we can expect to see in the K2 version 3 series are:
Full Joomla ACL compatibility
Infinite scrolling in admin lists
Improved extra field system. Extra fields are no longer restricted to K2 items only. You can create extra fields that extend the items, categories, tags and user profiles
Migrator from earlier versions of K2 (coming in stable release)
Integration with the most popular cloud storage services (S3, Azure etc.)
Drag and drop interface for sub templates (not until version 3.1)
Compatibility with existing third-party K2 plugins.
Comments in the frontend are now also powered by Backbone.js, allowing for comment submission & pagination without page reloads.
Tthe important bits for frontend editing (items, categories, comments) can now be entirely controlled from the frontend, using an identical UI with the K2 backend.
Asynchronous file upload and processing operations. Your static assets like images, videos and attachments are uploaded in the background while you work on your content. You no longer need to wait for these files to finish uploading when you hit "save & close".
Revisions in K2 items with visual content comparison.
Multiple image galleries and videos per K2 item. The option for multiple attachments already exists since v1.0.
There is now no limit to the number of resized images genereated by K2 for when you upload the item image. You can have 2 or 20 different dimensions created when uploading a K2 item image. It's up to you to decide and plan.
And more!
There will be a lot of new stuff in there, and the new UI will make the extension work much like a desktop app in terms of response time. Much of this is due to the use of backbone.js and and new database schema.
I can't wait to get my hands on K2 version 3!
What are your thoughts about this? Share in the comments section below.