The Joomla team has now released Joomla 1.7.0 stable. This version includes many fixes and improvements over the 1.6 version.
Key updates in the new version include pre-defined search options, a new defense against form manipulation, language specific font settings and more.
Most notable, however, is the fact that you can upgrade from the latest version (1.6.5) from inside the Joomla administrator. No more FTP upload of files!
This might seem like a simple thing to do, but it has taken some time to get this right.
Upgrade or migration?
Depending on your current version of Joomla, the process of moving to 1.7 will be an upgrade or a migration.
A "one-click upgrade" can be done from 1.6.5 only (sites on lower 1.6.x versions needs to be upgraded to 1.6.5 first through the one-click upgrade in the admin).
If your site is on 1.5, you need to migrate your site. The reason is the major changes that took place between 1.5 and 1.6, particularly in regards to ACL (Access Control List, ie. permissions control). The tables of 1.6 are also different from 1.5, which means the tables need to be migrated. Luckily, there is the free jUpgrade script that takes care of the process for you.
Video on how to upgrade using the one-click upgrade
The process of upgrading from 1.6.5 to 1.7 is similar to the one used to upgrade 1.6.x to 1.6.5. See the video below for how to do it.
Note, the one-click upgrade solution might not work on all hosts, particularly on shared hosting environments. Please backup before upgrading!
What's new in Joomla 1.7?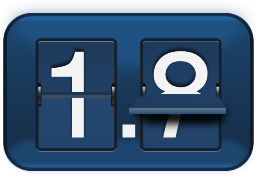 Most of the changes in Joomla 1.7 are quite hidden from the common user.
I believe we will see some of the much anticipated functions in 1.8 and later versions. We are now on a 6-month release cycle for new Joomla versions.
Consequently, the features in a given version will depend on what's ready for inclusion at the time of release.
Here are some of the main features of Joomla 1.7:
One Click Version Updating – Update a site to the latest stable Joomla release with just a click. The new built-in updater also handles updates for Joomla and Joomla extensions. This is a major enhancement improving upon the previous system of manually updating individual files on the server.
Six-Month Release Cycle – A shorter development cycle that will enhance Joomla's stability by providing more core feature development and adoption. Short-term releases will be in active development for six months, then reach the end-of-life one month after the next version's release. Long-term support will be active for 15 months, starting with Joomla version 1.8. Version 1.7 will have a support cycle of seven months.
Joomla Platform Split – The platform (the libraries folder) will now be split from the actual CMS, allowing the Joomla platform to be enhanced outside of Joomla and used in other types of developments. This will also allow the user community to be more strongly aligned with particular development groups, which will result in more effective and quality development.
Security is an important aspect of any CMS. Downloading the latest version of Joomla is the best way to ensure your personal or organizational security needs are being met, said Mark Dexter of the Joomla Production Leadership Team.
With Joomla 1.7 the user community placed a large emphasis on making the CMS installation process as simple as possible and new versions more frequent. This will allow users to more easily and frequently migrate to the latest version of Joomla, and take advantage of all the security benefits associated with running the newest code. We think Joomla users around the world will really embrace this new process.
Joomla 1.7 features
Here are more of the features of Joomla 1.7 highlighted in the official press release:
The ability to create a search menu option with pre-defined search options. This allows developers to create a menu item that pre-fills out the search fields so end-users can have a built-in search for a specific phrase.
Better example code for different plug-in types. The enables developers to more easily build custom extensions.
The ability to automatically validate form data against a list of options during the save operation. This makes it easier to protect against hackers manipulating forms and trying to save invalid data.
Enables the submit article form to automatically set the article category. This makes it easier for site administrators to restrict users to a specific category meaning content isn't accidentally added to the incorrect page on a website.
Batch processing (copy & move) of articles is now available in the same way as it is for categories and menu items.
Multilanguage improvements allow you to associate menu items in different languages for faster navigation. Language packs can now also be built to automatically select the best font for that language for the administrative back end.
Community-driven development
The development of Joomla is largely dependent on who contributes what to the core. Any developer is welcome to submit a patch for the Joomla core. It's up to the Joomla Production Leadership team (PLT) to decide what goes into the core and not. This can depend on various things, code quality being one of them.
So it's not just about what the end-users of Joomla want. It's also very much about someone taking the time to actually create the feature. And the PLT approving, improving and including it in the Joomla core.
More Joomla 1.7 resources
Official Joomla 1.7 information page
Hagen Graf has a book out on Joomla 1.7: http://cocoate.com/j17
Jen Kramer's article What You Need To Know About Joomla 1.7
The future of Joomla upgrades
Historically, an upgrade from one major version of Joomla to another has been a pain. Going from 1.0 to 1.5 was a bit of a pain (for complex sites, at least). The same was going from 1.5 to 1.6. This is now a thing of the past. Future upgrades will all be done from within the Joomla administrator. As I understand it, this will also apply if there has been changes to the tables in the new Joomla version. The upgrade script will take care of it all.
Sander Potjer of Joomlacommunity.eu has made a brilliant infographic showing the Joomla! CMS Development Strategy. Click the below image to open the full version in a new window.

What's missing?
For this release, the main feature is the improved upgrading of Joomla. There are a lot of other features included. Still, most of them are behind the scenes and not that visible or immediately useful (or at least it seems that way) to the average user.
I hope that for the next releases, the PLT will give us at least one, or a couple of, key features that the users are looking for. It will be much easier to market a new version of Joomla if there is a few very tangible features included. What I mean is a couple of flag-ship features that can be easily understood by users, clients and bosses.
It is so much easier to justify an upgrade if you can point at some really useful feature. Examples include content versioning, multimapping, content tagging and more.
Why upgrade to 1.7?
Well, Joomla 1.7 is the natural next step if you are a Joomla user and want the latest goodies. Particularly if you're looking to set up a new site. In that case, it is only natural to use the latest version.
As Joomla 1.7 has full compatibility with 1.6 templates and extensions, you will be able to take advantage of thousands of products to extend the package. I believe even more developers will port their extensions and templates to 1.6 / 1.7 before Joomla 1.5 reaches end-of-life in April 2012.
Several of the major extensions for Joomla has been ported to 1.6/1.7 already or are in a beta stage. Examples are sh404sef, K2, FlexiContent, Akeeba Backup, Simple Image Gallery and more.
Do you need all the extensions you currently use?
If you have a Joomla 1.5 site, you should take a real look at the migration script and what it involves. Perhaps test it on a backup version of your site first to be sure. At one point, you will have to migrate your site anyway.
Also, take a look at the features of 1.7 and see some of the new functions have removed the need for some of the extensions you use on your 1.5 site. The biggest obstacle to upgrading might just be the availability of upgraded extensions.
I will upgrade my 1.6 sites to 1.7 immediately. Also, I will start migrating some of the less complex 1.5 sites to 1.7. The larger sites takes some more work, but I'll migrate them as well during the next months.