As you know, it's the birthday of Joomla today!
At the J & Beyond 2010 conference in Wiesbaden earlier this year, some people coined the phrase "Joomla Rocks!". This stuck with during the conference, and the sound of "Joomla Rocks" could be heard throughout the Joomla universe for weeks and months.
Now, a group of Joomla Community members have gathered and taken the "Joomla rocks" phenomenon a step further. In the spirit of gratitude rocks, the concept of physical Joomla rocks is introduced on the brand new site ourcmsrocks.com.
Joomla Rocks! and let's show the world!
The point of the site is to create awareness about Joomla - to create some buzz. You can send cool ecards to your friends to tease them (if they're using WordPress, for instance), or if they're hopelessly stuck in the world of static HTML.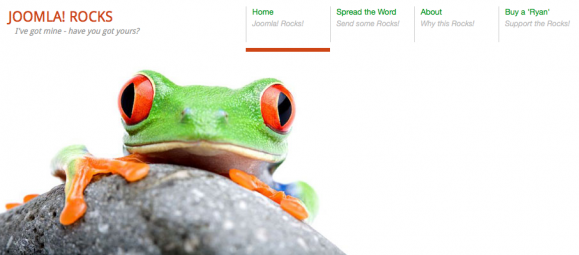 Meet Ryan
Ryan is a frog. So what's he doing in a site promoting Joomla? Well, he's not just a frog, he's actually a Agalychnis callidryas, which is a tree frog that nature blessed with the same colours as Joomla! He's on a mission as well - he's going to tell the world that Joomla rocks.
When I say "Joomla!" you say "Rocks". When I say "Joomla!" you say "Rocks". When I say "Joomla!" you say "Rocks"—Joomla! Rocks!
Visit ourcmsrocks.com and show your support by commenting, sending an ecard, or buying a Ryan!