This is the third part of a series of posts on how to work with meta elements in Joomla.
Meta tags are tags, or meta elements, that (mostly) contain information about the website or page which is not shown directly to the user. In this part I will show you how to use the meta tag functionality in sh404SEF to improve your site SEO.
If you have the SEF (Search Engine Friendly) component sh404SEF installed, the meta tag management is more flexible than with the built-in Joomla solution. You will be able to enter meta tags for any page on your site. This involves for instance that you may enter meta elements for blog and section views, as well as for following pages automatically generated from these views (i.e. page-2, page-3 etc).
This is part three of a four-part series on Joomla meta tags.
The other parts of this series are:
Meta tag management in sh404SEF
I believe you should activate 'active meta management' in the sh404SEF advanced configuration. If set to Yes, Title, Description, Keywords, Robots and Language META tags will be managed by sh404SEF. Otherwise, original vaues produced by Joomla and/or other components will be left untouched.This does not mean that sh404SEF will create the meta tags automatically, as some people have assumed from the previous.
The 'Active meta management' option gives you a minimum of meta tag optimization on your site. There are, however, things you can do to improve the optimization.
This is useful for getting started. However, if you want to compete for positions on highly competitive keywords, I recommend writing the title tag and meta description tag for each page specifically. This will ensure you have more control over which keywords are used on what pages.
Title tags in sh404SEF
Title tags are automatically handled by sh404SEF when the 'active meta management' setting is turned on.
One challenge I've had previously with sh404SEF is how title tags are built. If you decided to include the category and/or section in the URL of your page, sh404SEF would include them in the TITLE tag as well. This problem was fixed in version 1.5.5 of sh404SEF (Thank you, Yannick!). You can now enjoy separate settings for the TITLE tag and the URLs.
This means you can have a URL like this:
http://www.joomlablogger.net/tutorials/extensions/setup-sh404sef
and a title tag like this:
How to set up sh404SEF
These settings can be found in the Meta/SEO tab of sh404SEF: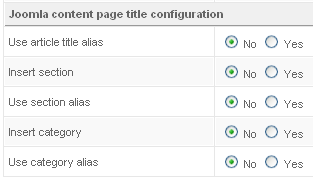 Why would you want to remove the section/category from the title?
Well, it makes the title tag more unique. And, according to my own experience with SEO for Google and the experience of the SEOMOZ' readers, the TITLE tag is among the top 5 factors in search engine visibility. The main keyword(s) should be included in the TITLE tag And, if possible, near the beginning of the tag (don't force it - it must read well).
Meta description tags in sh404SEF
With the 'active meta management' setting on the meta description tags of articles and other pages on your site will be automatically generated.
If you have entered a meta description in an article sh404SEF will use that text.
How to customize your meta tags in sh404SEF
Even though sh404SEF does a decent job of creating meta tags for your site, you might want to create new ones. For instance, you might want to alter the article title so it says one thing in the title tag and another in the title in the content area of your site.
You do this by entering custom meta tags in sh404SEF.
Please read my tutorial on how to set up sh404SEF if you are unfamiliar with the component.
Go to the sh404SEF control panel (make sure you have the advanced settings activated).
Click "View/Edit SEF URLs"
Locate the URL you want to create a meta tag for. I normally do this by entering part of the URL into the 'Filter' box and hit 'Enter'.
Check the box next to the URL
Click the 'New meta' button in the top right corner.
Enter your preferred meta tags.

TITLE: Should be no more than 80 characters
Meta description: Should be no more than 155-160 characters.
Keywords: I usually ignore the keywords tag, but feel free to enter some (comma separated) if you feel like it (they have no impact on SEO).
Robots tag: I normally leave these untouched.

Click 'Save'
These settings will now override the default meta tags created by sh404SEF.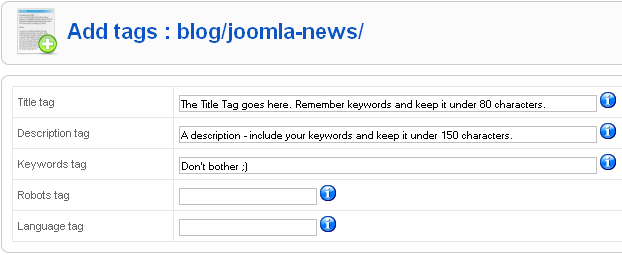 Following pages in Joomla frontpage and blog layouts
One major shortcoming of the front page and blog layouts in Joomla is how meta tags are handled. Let's say you have decided to have pagination on your front page. You have decided to have 5 front page articles show, and the rest will be pushed to page 2, page 3 and so on. This is all well, and a nice feature. The same goes for blog layouts (section or category).
However, the following pages will have the same meta tags as the first page of the frontpage or blog layout. This is not good, because it results in a lot of duplicate title tags and meta description tags in Google. Google Webmaster Tools actually reports on this, so I consider this to be a factor Google takes into consideration. It's also better for your users if the meta tags are actually telling them something useful, rather than a generic text from another page.
You should now have the knowledge to start customizing your meta tags into something useful. It can bring you loads of traffic if done correctly.
Some points to remember about SEO and Joomla:
The TITLE tag and the meta description are the first impressions your business gives to a potential customer or reader searching in Google!
Create the meta tags so they sell your page and make the user want to click.
Use your main keywords for the site in both the TITLE tag and meta description
Don't stuff your tags with keyword. Spamming is not good for the user, and it will get you banned from Google.
In the next part of this series I will write about how to use Google Webmaster Tools to check and improve your Joomla meta tags.