Amy Stephen has done a remarkable job evaluating the upcoming ACL system for Joomla 1.6.
She has shared her thoughts and suggestions for improvement of the ACL system in a video.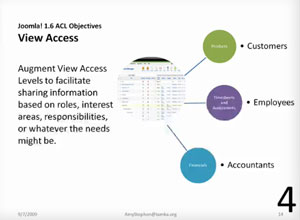 The improved ACL (Access Control List) system is one of the main features in Joomla 1.6. I know both need it and want it as soon as possible. Still, it's very important that the system is intuitive and simple to use. Thus, Amy has proposed a lot of usability improvements to the system, with the inclusion of AJAX-type functionality.
This will, if it's implemented, let the author of an article create a new user group and with certain privileges and assign the article to that group. All from the same window. Of course, the functionality may be used in any situation where you need to assign an asset to a specific group or user.
Submit your own use cases
During the presentation, Amy presents a ACL use case. She's chosen a school as her case and shows how to set up the ACL to accomodate the needs of the school. A school is a good example, as it needs a very detailed and well functioning ACL system to protect information from access by the wrong people.
Amy encourages users to submit their own cases to improve the ACL functionality.
She writes the following in a blog post at Joomla.org:
Your review and feedback is appreciated on Design Concepts for the Joomla! 1.6 Access Control Improvements. Please review this video that overviews those ideas,
review presentation material
and leave your comments, questions and concerns, below. If you have specific application requirements that you want to ensure are met, take time to share those
Use Cases
for review. Thanks!
Great Video
I urge you to look through the video made by Amy and I really hope her suggestions will make it into the final version of Joomla 1.6 ACL.