Yesterday, Fotis Evangelou of Joomlaworks tweeted a message about their work on a newsletter component for Joomla: Newsletter Designer
I've previously written a post on why I don't use a Joomla newsletter component myself. I'm using the Aweber service, and think it fulfills my needs.
However, after seeing all the great extensions created by JoomlaWorks, I'm anxious to see how this will work out. If you don't know JoomlaWorks, you might recognize K2, K2Mart, Frontpage Slideshow and a host of other extensions these guys have made.
The upcoming newsletter component from our Greek friends will include integration with K2, Virtuemart and Joomla, alongside other useful functions.
The Joomla community was made aware of the new extension by this tweet:
We got sick & tired of crappy newsletter solutions for #Joomla - so we decided to make one, the way it SHOULD be! http://twitpic.com/3ee5k5
Naturally, this sparked some interest in the community, and Fotis followed up with some more details about the extension.
Features
From what I've seen so far, the Newsletter Designer will include:
Easy-to-use interface
Integration with K2, Joomla and Virtuemart
A joy for template designers and a new way to extend their templates, as you can create either newsletter template packages or you can embed a newsletter template on your joomla template
Auto-signup upon registration to a Joomla site (System plugin)
You can gather more personal details (not just name and email)
Full click and other stats tracking
MVC templates
WYSIWYG newsletter editing
"Subscriber topics" aka groups, with the option to subscribe in multiple topics (e.g. sports, economy etc.)
Fancy graphics used for stats like in K2mart
With the right DNS settings, you can safely send emails as the target MX servers can verify the sender
Shared hosting friendly with programmable batches to send a set number of emails per hour to comply with server limits
The extension will be commercially available in the beginning of 2011. Click on the below screenshot for a larger version: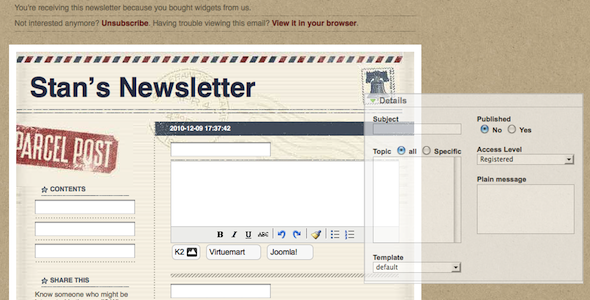 Current newsletter components
From before, there are several mailing list components available. AcyMailing, ccNewsletter, RSMail and AcaJoom are some of the choices in this category. There is a whole section of newsletter extensions available over at the Joomla Extensions Directory.
Are you using a newsletter extension for Joomla? If so, which one and why?
If not, what would it need to be like for you to use it?